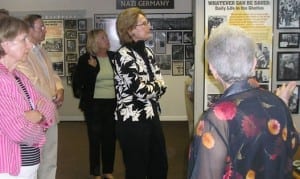 The Museum offers special Private Group Tours by appointment for 12 or more participants. A variety of program options are available, depending on your schedule and interests. See below for details. Your group should plan to spend at least 90 minutes at the Museum for your tour. Tours are conducted, subject to availability, on Mondays between 9:00am and 5:00pm, and Tuesdays through Fridays between 9:00am and 12:00pm.
Payment is required 5 days prior to the tour – make checks payable to "The Holocaust Museum & Education Center of Southwest Florida". You may also pay by credit card - call the Museum at 239-263-9200, ext 207.
Cancellation Policy: In order to receive a full refund, at least 24 hours notice must be given.
To book a tour, contact Education Assistant David Nelson at David@hmcec.org or call 239-263-9200, ext. 205. Allow at least two weeks in advance for booking, and note that requested dates are subject to calendar availability.
NO foods, beverages (other than water) or tobacco products are allowed in the Museum. NO photography in the Museum. Please turn cell phones OFF before entering the Museum.
Private Tour
Up to 25 adults ($15 per guest)
Introduction and Guided Tour of Museum
Tour lasts up to 2 hours
Private Tour & Survivor Presentation
Up to 25 adults ($25 per guest)
Introduction and Guided Tour of Museum
Survivor Presentation after tour
Tour lasts up to 2.5 hours
Private Tour, Survivor Presentation, & Breakfast or Lunch
Up to 25 adults ($35 per guest)
Survivor Presentation before tour
Guided Tour of Museum
Survivor Presentation with light breakfast
Breakfast before tour, or lunch after tour (food and beverage included in cost)
Tour lasts up to 2.5 hours
Large Group Program
Up to 60 adults ($15 per guest)
Seated introduction
Self-guided Tour of Museum
Tour lasts up to 1.5 hours