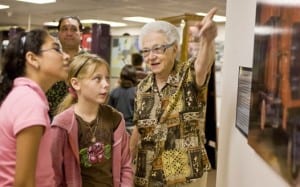 Volunteers play an extremely important role in the operation of the Holocaust Museum & Cohen Education Center and its programs. The Museum relies on volunteer support, donations and membership to carry out its mission to Teach the lessons of the Holocaust to inspire action against bigotry, hatred and violence.
What are the personal qualities of a Museum Volunteer?
from United States Holocaust Memorial Museum literature

Compassion: to deal with difficult subject matter and those who are affected by it.
Open-Mindedness and Patience: to work with a diverse public and staff.
Integrity: to represent the institution and oneself with the highest standards.
Dedication: to the Museum's mission and to the values of the Volunteer Program.
Reliability: to consistently keep one's volunteer commitment to the Museum.
Volunteer Opportunities:
Guest Services serve as ambassadors to the public. They greet and orient visitors to the Museum's layout.
Museum Educators work with the student education programs.
Behind-the-Scenes Volunteers may have talents in other areas such events planning, writing grants, office work or computer technology.
If you are looking for a rewarding and educational experience, please contact Sam Parish, Sam@hmcec.org, for more information and/or download the Current Volunteer Application.
Student Interns
The Holocaust Museum & Education Center of Southwest Florida wishes to provide an opportunity for interested students to work directly with historical objects, history-based education, and non-profit marketing in a professional setting. To that end, the Museum is accepting TWO interns per year in each of the following departments: Education, Curatorial, Marketing/Communications.
Each position will require a minimum of 60 hours per semester and the intern must provide his/her own transportation. Two positions will be available for each department – one Fall/Winter and the other Spring/Summer. Interested students should submit a cover letter explaining his/her interest in the Museum & position, current resume, and two letters of reference from a non-relative to the appropriate contact listed below. Interns will be contacted within 10 days of submission.
Students interested in a shorter volunteer commitment should contact the appropriate department to discuss single project opportunities.
EDUCATION
Students interested in History, Museum Studies, Classroom Education or Public History are great candidates for the Education Department!
Education interns will be responsible to learn the content of the Museum and associated education programs. A successful intern will: (1) participate in the creation and implementation of age appropriate age-appropriate programming for school day and after school programs; (2) be able to write and speak effectively to various audiences; (3) have proficiency in basic computer and technology skills; and (4) enjoy working with students of all ages.
Sam Parish, Education Specialist Sam@hmcec.org
CURATORIAL
Students interested in the fields of Public History, Museum Studies, History, Library Sciences, and Judaic and Genocide Studies are great candidates for the Curatorial Department!
A successful intern will participate in the following: (1) Assist with preservation activities for objects, including re-housing of collections in field-accepted storage containers; (2) catalogue recently acquired collections using guidelines set by Curatorial Specialist; (3) finalize a temporary exhibit the museum is developing with materials provided by the local community; (4) digitize objects to assist with identification within the collections catalogue; (5) assist with installation of exhibits, including documentation of damage before, during, and after the exhibition period; (6) translation of documents to allow for use in permanent and temporary displays (if possessing applicable skills – fluency in German, Polish or French).
Cody Rademacher, Curatorial Specialist Cody@hmcec.org
MARKETING/COMMUNICATIONS
Students interested in advertising, graphic design, communication and are detail-oriented are great candidates for the Marketing Department!
A successful intern will: (1) analyze visitor information (2) participate in market research projects; (3) work on social media projects to further the mission and programs of the Museum; (4) participate in Outreach project to promote awareness of Museum and its programs to local SWFL organizations and groups.
Joan Hogan, Marketing/Communications Manager Joan@hmcec.org