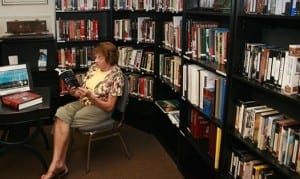 The Holocaust Museum & Education Center of Southwest Florida houses a Lending Library of over 500 Holocaust-related books and over 100 films. Most of these titles have been donated to the Holocaust Museum over the past several years, many by the authors themselves.
The Library is also home to memoirs and personal testimonies of several of our local Survivors and Liberators. Please ask at the front desk about the stories of those living in our community.
There is a small section of books that do not circulate. These titles have either been signed by the author or are considered research materials. Visitors are welcome to stay in the Museum and use these materials at their leisure.
On-site browsing is encouraged for all visitors; however, borrowing is a privilege of membership.
Borrowing Guidelines:
Full name and telephone number printed on check-out card
Books may be taken out for up to THREE weeks
Videos and DVDs may be taken out for up to ONE week
The Righteous Among the Nations: Rescuers of Jews During the Holocaust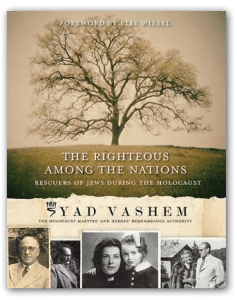 This moving tribute to the best in the human spirit profiles more than 150 recipients of the Yad Vashem "Righteous Among the Nations" award, given to non-Jews who risked their lives to save Jews during the Holocaust. They are just a few of the 21,310 who have received the award since its inception in 1963. The award grants honorary Israeli citizenship, but more than that, it acknowledges a high level of moral heroism. It is notable that most of the subjects do not see themselves as heroic but as following the only path they could. In the words of Lucien Bunel, when asked why he had disobeyed the laws against sheltering Jews, "I know of only one law, that of the gospels and of love." Each entry is told in narrative form, conversationally, as in a memoir. The result is a volume that is not only highly readable but that excerpts well for use in talks and lectures. In some cases, black-and-white photographs of the subjects of the entries are provided. Narratives center mostly on occupied Europe but also include humanitarians from the U.S. and Japan.
The Journey That Saved Curious George: The True Wartime Escape of Margret and H.A. Rey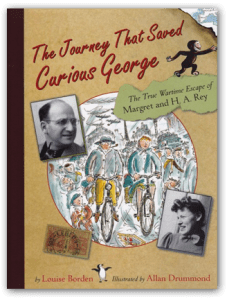 Handsomely designed and illustrated, this large-format book tells the story of Margret and H. A. Rey. Part 1 concerns their childhoods in Germany, their lives together in Rio de Janeiro and Paris in the 1920s and 1930s, and the growing menace after war broke out in 1939. As German-born Jews, they were suspect in many quarters. Part 2 recalls the Reys' flight from Paris and the couple's escape to Lisbon, Rio, and finally New York. They were carrying several illustrated manuscripts, including The Adventures of FiFi, later retitled Curious George. Photos, reproductions of documents, and artwork appear throughout the book, as do Drummond's spirited ink-and-watercolor illustrations, brimming with action and details. The text, set in large type and strung out like poetry on the page, reads well. Given the average age of Curious George fans, the audience for this unique book is an open question, but the account is well worth reading for its accessible portrayal of the Reys' personal adventure at a pivotal point in modern history as well as for their lasting contribution to children's books.
Carolyn Phelan - Copyright © American Library Association. All rights reserved