by Sandra Lee Buxton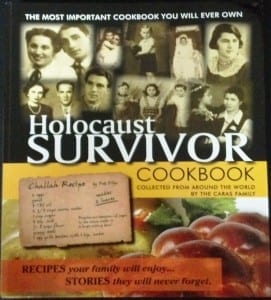 Some people cook with flair, some cook with family, yet others take pleasure in cooking with history, and now you can too. Yes, I did mean history. I suggest that you visit the Holocaust Museum and pick up the special cookbooks that make this possible. Grab a copy for yourself of course and one for gift giving. The Holocaust Survivor Cookbook and Volume 2, Miracles and Meals are books that you will treasure for their delicious recipes and the touching stories of the families who provided them.
The cookbooks themselves started as a project of sorts and definitely became a labor of love. Two women, Joanne Caras and Gisela Zerykier traveled to Israel to visit their children, a young married couple. Visiting various sites, their children took them to a place where they did volunteer work. The "restaurant" in Jerusalem was Carmei Ha'ir, which was actually a soup kitchen bustling with business. What set this apart from other endeavors which offered meals to the needy, was the way it was structured and managed. Waiters provided menus, took orders and served warm delicious meals to people at their tables. Dignity and respect was paramount to this service and those who could afford to pay did so and those that could not, did not. Everyone at the soup kitchen was greeted with warm and caring behaviors and served a delicious meal, more than 500 meals a day to be exact.
Read Full Article on LifeInNaples.net