Join Us for The Luncheon and See a Special Live Performance of …            ONE PLAY. TWO VOICES. A BOUNDLESS HOPE FOR HUMANITY.
Date: Wednesday, December 6, 2023
Time: 11:30am – 1:30pm
Location: The Vineyards Country Club, Naples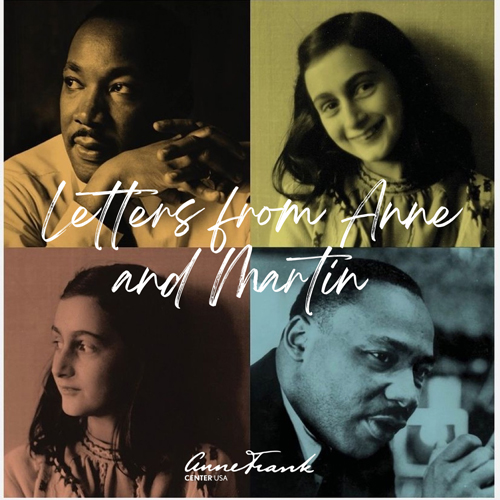 "In conjunction with the Anne Frank Center USA, we will present a live performance of "Letters from Anne and Martin" at our annual winter fundraising event, The Luncheon. This dramatic presentation is drawn from the writings of Anne Frank and Dr. Martin Luther King, Jr. The unique adaptation combines their iconic words and examines their parallel experiences living in the shadow of hatred and prejudice in different decades, on different sides of the globe, but within the same generation.
Click here to view a preview of the program
Thank you to Our Luncheon Sponsors as of 10/3/23
Remembrance Sponsor:
Shelley and Steven Einhorn
Testimony Sponsor:
Maureen and Arnold Lerner
Estelle and Stuart Price
Hope Sponsor:
Fran and Rob Nossen
Inspire Sponsor:
Sandy and Fred Roth
Patron Sponsor:
Shirley and Marshall Besikof, Rosalee and Jerry Bogo,
Susan Bookbinder, FGCU Foundation,
Jim Hale, Dottie McGovern, Nancy White
Tickets and Sponsorship Packages Now Available - click here for details