Guest Speaker – Christian Picciolini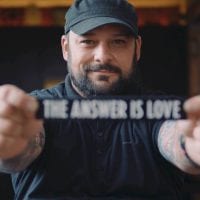 Christian Picciolini is an award-winning TV producer, public speaker, author, peace advocate, and a former violent extremist. After leaving the hate movement which he helped create during his youth in the 80's-90's, he began the painstaking process of making amends and rebuilding his life. Christian's involvement in, and exit from, the early American white power movement is chronicled in his memoir White American Youth: My Descent Into America's Most Violent Hate Movement – And How I Got Out (Hachette, 2018).
The event begins with a Patron Reception at 5:15 pm, followed by dinner and the program at 6:00 pm.
Sponsorship Opportunities
Remembrance Sponsor $15,000
(Fair Market Value "FMV" $1,300)
10 tickets to the Patron Reception
10 tickets to dinner and the program
Premier seating and recognition as a sponsor
Testimony Sponsor $10,000 (FMV $1,040)
8 tickets to the Patron Reception
8 tickets to dinner and the program
Preferred seating and recognition as a sponsor
Hope Sponsor $5,000 (FMV $520)
4 tickets to the Patron Reception
4 tickets to dinner and the program
Preferred seating and recognition as a sponsor
Ticket Options
Patron Ticket $1,000 (FMV $130)
1 ticket to the Patron Reception
1 ticket to dinner and the program
Preferred seating and recognition as a patron
Triumph Ticket $300 (FMV $100)
1 ticket to dinner and the program
Program Advertising
Full-page $500 (size is 5" x 8")
Half-page $250 (size is 5" x 4")
Triumph 2019 Speaker Sponsor