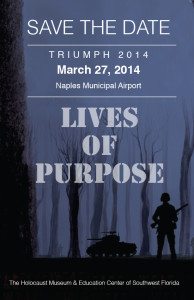 One of the best-kept secrets of World War II will be shared in Naples in 2014. On March 27, The Holocaust Museum & Education Center of Southwest Florida will honor "The Ghost Army".  Armed with truckloads of inflatable tanks, a world class collection of sound effects records, and more than a few tricks up their sleeves, this handpicked group of G.I.s, was known officially as the 23rd Headquarters Special Troops. They landed in France to conduct a special mission, deceiving the Germans about U.S. troop strength and location at strategically important sites in France, Germany, Luxembourg and Belgium.
Composed of artists and sound technicians, specially recruited and trained, the unit tailored their creations for the mission at hand. They impersonated other units, built phony  planes, convoys, gun emplacements and even a fake Headquarters. They set up decoy, yet realistic, radio operations. The aircraft they created were purposely left visible to fool enemy reconnaissance flights. Many members of "The Ghost Army" went on to memorable careers in a number of fields, among them artist and sculptor Ellsworth Kelly and designer Bill Blass.
"The Ghost Army" will be the 2014 National Honoree for the Holocaust Museum's annual fund-raising event, Triumph 2014 – Lives of Purpose. The event will be held on Thursday, March 27, 2014 from 6:30pm – 9:00pm, at Naples Municipal Airport. The Triumph Awards acknowledge contributions by individuals and organizations who, having overcome adversity and opposition, positively affect the lives of others.  On hand to accept the Triumph Award will be one of the veteran of the unit, as will Rick Beyer, the producer of the recently aired PBS documentary, "The Ghost Army".  As the documentary said, "Illusion was their ultimate weapon".  The event will also feature a replica of one of the unit's wartime creations.
The event's 2014 Local Honoree is Ms. Schaeffer McHenry, a graduate of Gulf Coast High School and a cadet at the U.S. Air Force Academy.  While a student at Gulf Coast, Ms. McHenry created an unique student organization called "The Friendship Circle".  Its focus was to include those students who were missing out on the social aspects of school life due to their disabilities.  The organization made such an impact on all the students involved, Gulf Coast High School administration made it a permanent Club at the school. Ms. McHenry will be present to accept the Award and talk about "The Friendship Circle".
| Presenting Business Sponsor | Venue Sponsor | Presenting Media Sponsor |
| --- | --- | --- |
| | | |
When:   Thursday, March 27, 2014
                6:30 – 9:00 pm
Where:  Hertz Hangar @ Naples Municipal Airport, a former WWII training base
DIRECTIONS TO THE EVENT:
From NORTH of Naples Municipal Airport: follow Airport-Pulling Rd south past Golden Gate Parkway, to Enterprise Ave.  Turn RIGHT onto Enterprise Ave and follow 1/10 of a mile to Citation Point.  A volutneer will direct you to the Valet Stand.
From SOUTH of Naples Municipal Airport: follow Airport-Pulling Rd north past the main entrance to the airport.  At Enterprise Ave and turn LEFT and follow to Citation Point.  A volunteer will direct you to the Valet Stand.
Ticket cost: $150/person for general admission
A private patron party will precede the event, starting at 5:30 pm.  This will be an opportunity for Museum patrons to view "The Ghost Army" documentary, meet the honorees and receive a goody bag!
Supporting Sponsors
Community Sponsors
Friends of the Museum
Media Sponsors
Accommodation Sponsors
Patron & Business Sponsor Opportunities:
Please call Amy Snyder, Executive Director for benefits associated with each level.
$10,000 ~

Presenting Patron
$5,000 ~ 

Supporting Patron or Sponsor
$2,500 ~ 

Community Patron or Sponsor
$1,500 ~ 

Friend of the Museum
$450 ~ 

Patron
$150 ~ General Admission single ticket
 Purchase Triumph 2014 Tickets
 Please Note: Clicking "Submit" will take you to the Paypal website where you will complete your transaction