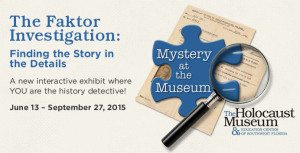 The Holocaust Museum & Education Center of Southwest Florida
is pleased to present its first interactive exhibit,
The Faktor Investigation: Finding the Story in the Details, this
June thru September 2015. This exhibit gives you the unique opportunity
to learn how individual men and women were personally affected by
the Holocaust. We invite you to examine the life of Stanislaus and
Sala Faktor by using their personal letters and documents.
Previously untold, their story gives insight into the plight of many forced to leave Europe in the face of Nazi oppression.  This special exhibit focuses on the Faktors' early lives and careers in Nazi Germany, their immigration to the United States and their communication with family members across the world.