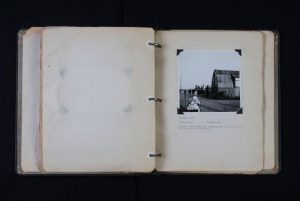 January 9 through May 27, 2018
Resettling and Rebuilding: The Displaced Persons in Post-War Europe explores the tumultuous period across the continent following World War II. Millions of refugees who were on the move had their homes destroyed in the fighting, or had fled their homes in war-torn territories. Still others, like the Jews and others considered as "undesirable" by the Nazis, had been forcibly removed from their homes, and sent to ghettos and concentration camps, which had just been liberated at the end of the war. Sadly, we see a similar situation today with refugees from modern wars and genocides, like the Syrians and the Royhingas, who have also lost their homes and are trying to flee to safety.
Since the lack of housing made governing enormous transient populations difficult, the Allies created "Displaced Persons" (DP) camps to address the issue in their Occupation Zones. The DP camps provided shelter as well as the most basic needs of the day: clean water, food, sanitation and medical care. Any large building or facility was an ideal venue for use as DP housing, even former concentration camps and Nazi barracks.
Despite all they had suffered during the Holocaust, the Jews still faced anti-Semitism in the camps. When made aware of this, General Dwight D. Eisenhower tried to ameliorate the situation by ordering the establishment of safer, exclusive camps for them, and an increase in their rations. Later, President Harry Truman made issuing visas to the Displaced Persons a higher priority over non-DPs in regards to immigration quotas.
The exhibit also looks at the various governmental and charitable organizations which helped administer and supply the DP camps. It took Europe a long time to recover from the physical damage caused World War II. Some people remained in DP camps for years after the war ended.