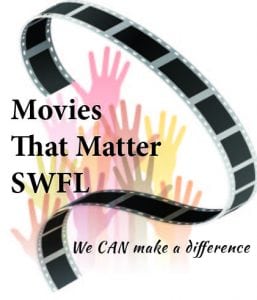 You can make a difference! Movies that matter returns. Join us to educate, engage, and facilitate discussion around human rights topics through film.
There will be a panel of experts and discussion after each film about how these issues affect Southwest Florida and how you can help.
Films to be presented this season are:
INVISIBLE HANDS — Wed., Oct. 16 at 6:30 pm (1 hour 20 minutes + discussion after film). This is the first feature documentary to expose child labor and child trafficking within the supply chains of the world's biggest companies. It is a harrowing account of children as young as 6 making the products we use every day.
A PLACE AT THE TABLE — Wed., Oct. 23 at 6:30 pm (1 hour 24 minutes + discussion after film). 50 Million Americans – 1 in 4 children – don't know where their next meal is coming from. A Place at the Table tells the powerful stories of three such Americans, who maintain their dignity even as they struggle just to eat. The film will change forever how you think about the hungry.
HEROIN(e) — Wed., Oct. 30 at 6:30 pm (39 minutes + discussion after film). This Oscar-nominated film follows three women – a fire chief, a judge, and a street missionary – as they battle the opioid epidemic.
Each film will be shown at Paragon Pavilion Theater, 833 Vanderbilt Beach Rd, Naples, FL 34108.
There will be open seating for each screening. Tickets are $10 each and available online only.
To purchase tickets, click the link to the right or CLICK HERE.