The Human Rights Film Coalition of SWFL Presents
MOVIES THAT MATTER SWFL

"Movies that Matter SWFL" will be presenting important human rights films. Each film will be facilitated by individuals with expertise in the topic of the film and followed by a Q & A session.
Films to be presented during this inaugural season are:
"I Am Jane Doe"
Thursday, October 18, 2018, 6:30 p.m. at Temple Shalom
"Freedom to Marry"
Thursday, November 1, 2018, 7 p.m. at Temple Shalom
"John Lewis – Get in the Way"
Tuesday, November 13, 2018, 7 pm. at Sheffield Theater, Moorings Park
"Bending the Arc"
Monday, December 10, 2018, 6 p.m. at South Regional Library
Admission is FREE!
While the movie tickets are free, donations help cover costs of Movies that Matter so that we can be inclusive of all who want to learn about these important issues, regardless of ability to pay for tickets. Thank you!
To RSVP, donate, and/or become a sponsor, click the link to the right or CLICK HERE.
Sponsorships Opportunities:
Benefactor:  $1,000 Acknowledgement at each event and in the program, two books related to the films, and up to 6 reserved seats at each film.
Sustainer:  $500 Acknowledgement at each event and in the program, one book related to the films, and up to 4 reserved seats at each film.
Supporter:  $250 Acknowledgement at each event and in the program, and up to 2 reserved seats at each film.
Patron: $75 One reserved seat at each film.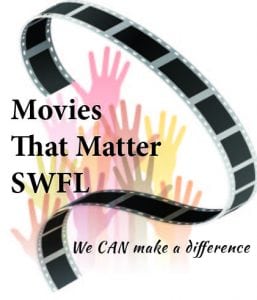 The mission of "Movies That Matter SWFL" is to educate, engage and facilitate discussion around human rights topics through film. Human rights are rights that are believed to belong justifiably to every person. They are basic rights and freedoms inherent to all human beings, whatever their nationality, place of residence, sex, religion, color, ethnic origin or any other status. Human rights include the right to life and liberty, freedom from slavery and torture, the right to education and many more,
Members of The Human Rights Film Coalition of SWFL include The Holocaust Museum & Education Center / GenShoah SWFL / Jewish Federation of Greater Naples / JCRC and Temple Shalom.
"Bending the Arc" Panelists
Skyler Badenoch, Chief Executive Officer, Hope for Haiti
A returned Peace Corps Volunteer from Cote d'Ivoire, Skyler managed international programs in Haiti, Nicaragua, and Malawi for buildOn for 10 years. Most recently as Vice President of New Business Development, he raised more than $10MM for those programs. Skyler earned his Bachelor's Degree in Economics from the University of Arizona and a Master's Degree in International Development Studies from the George Washington University. He has a working proficiency in both French and Creole.
Dr. Philip Regala
Dr. Regala is an orthopedic surgeon in Naples, Florida and is affiliated with NCH Downtown Naples Hospital. He received his medical degree from Medical College of Wisconsin and has been in practice for more than 20 years. He provides pro bono surgeries through the Physician-Led Access Network (PLAN) of Collier County, Rotary, and Hope for Haiti.
Stephanie Vick, M.S., B.S.N., R.N.,Collier County Health Dept.
As Administrator of the Florida Department of Health in Collier County, Stephanie Vick oversees three health department locations, over 170 employees and a budget of $11.2 million. DOH-Collier is the second healthiest county in the state and Ms. Vick is heavily involved in support of wellness initiatives in the health department as well as in the community as demonstrated by her willingness to collaborate with local community partners on the Blue Zones Project.
Ms. Vick received her Bachelor of Science in Nursing from The Catholic University of America in Washington D.C., and her Master of Science in Health Services Administration from NOVA/Southeastern University in Ft. Lauderdale. She has held many positions within DOH-Collier including Clinic Coordinator, Family and Personal Health Director, Executive CHN Nursing Director, and, most recently, Interim Administrator. She is a multi-year Davis Productivity Award recipient for her work in community outreach in Collier County. Ms. Vick furthers her community outreach by educating future nurses and health care leaders by serving as an adjunct professor at Hodges University in Naples, Florida. She is a supporter of quality improvement in the work place and is a trained Public Health Accreditation Board Examiner (PHAB).