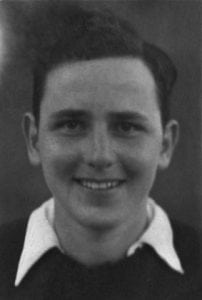 David Nelson, the Museum's Education Assistant, has been diligently working clues on the trail of a mystery. As a Genealogist, David was intrigued by the contents of one of the letters featured in our Fall 2015 exhibit, The Faktor Investigation. He has been researching the life and family of Kurt Kriszhaber, a Faktor relative imprisoned in an internment camp in Australia during World War II.
One part of the Kriszhaber mystery was recently solved – what did Kurt look like? This photo of Kurt Kriszhaber was just found in the National Archives of Australia!
In November 1941, Kurt wrote a letter to Sala Faktor in New York, inquiring about an aunt and uncle in Europe. Sadly, the very week he wrote the letter, his aunt and uncle were rounded up and deported from Vienna to Minsk, and were never heard from again.
On Wednesday, August 8, from 10:30am – 11:30am, join David for a presentation at the Museum on "Letter from Australia", an overview of the world-wide research he conducted of this family torn apart by the Holocaust. Among other things, you will get the answers to how did Kurt wind up in the camp in Australia, what happened to his family members, whom did David contact in his investigation and where things stand now. You won't want to miss it. The presentation is open to the public, and free of charge to attend. RSVP to info@HolocaustMuseumSWFL.org.