Admission: $10 to benefit Museum Education programs; complimentary admission to teachers
RSVP to: info@HolocaustMuseumSWFL.org or call 239-263-9200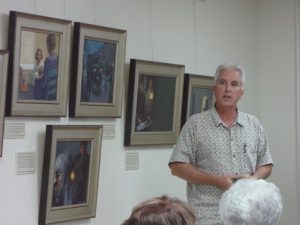 Bill Farnsworth will discuss the paintings he created when illustrating the children's book Irena Sendler and The Children of the Warsaw Ghetto. Sendler helped save 2,500 children from the Warsaw Ghetto in WWII. The Museum's 5-8-10 Project Education program uses this Irena book to introduce students to a courageous character whose positive actions helped others. The original oil paintings are currently on display through December 31 in our exhibit "Painting the Irena Sendler Story". Farnsworth, a graduate of The Ringling School of Art and Design, is a nationally known and award-winning illustrator and fine artist.
Teachers are invited to attend the Gallery Talk at no charge. They are also invited to come to the Museum on Sunday, December 10 for an in-depth presentation on Irena Sendler's life by our Education Department. RSVP to Sam@HolocaustMuseumSWFL.org for December 10th program.