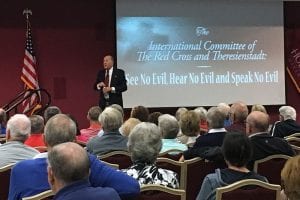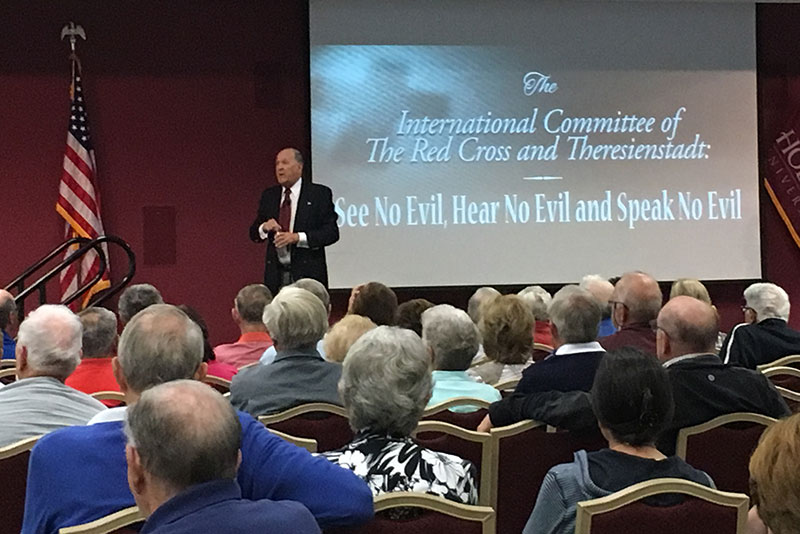 The Holocaust Museum & Cohen Education Center and Hodges University have partnered to present the 2020 Elliott Katz Lectures. This popular series is 6 lectures that explore topics related to the Holocaust. The lectures will be at Hodges University's Naples Campus in the John White Community Room, 2647 Professional Circle, Naples
Tickets to each lecture are $35 and available by clicking on the "Subscribe Now" button to the right (or below).
Dates for the lectures are: January 9; January 23; February 6; February 20; March 5; and March 19, 2020. Each lecture is from 10 a.m. to noon. Please arrive early as all lectures begin promptly at 10 a.m.
If you would like to become a corporate sponsor, call 239-263-9200.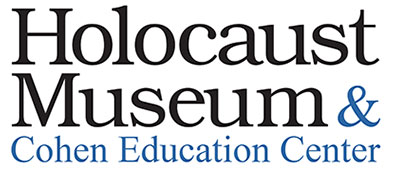 This year's lectures are: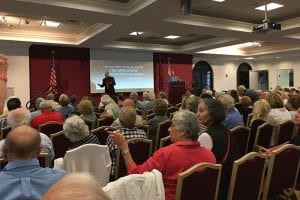 January 9, 2020
Hooray for Hollywood and Sieg Heil: Learn how the Hollywood owners and studio executives played a crucial role in how Hollywood would react to Nazi Germany, domestic Nazis and Nazi spies in America. Familiar actors, actresses and Hollywood moguls took on new roles for which there was no script or training. The truth is both shocking and surprising and to most Americans, unknown.
January 23, 2020
Executive Order 9066. America's Shame. Franklin Delano Roosevelt's Legacy: On February 19, 1942, Franklin Delano Roosevelt signed Executive Order 9066 permitting the internment of 120,000 Japanese-American men, women and children, 70,000 of whom were American citizens. That order summarily canceled their constitutional rights allowing these people to be persecuted, dehumanized and impoverished. Forced behind barbed wire and machinegun watchtowers, they were categorized as enemies of the state. How could this happen and who was behind this?
February 6, 2020
All the News Unfit to Print: Dominating the national print news in influence and circulation during World War II were the New York Times and Washington Post. How did they react to the news flooding out of Europe about the genocide of the Jews? Was there a covert and willful policy adopted to suppress what was then happening to the Jews in occupied Europe and if so why? These newspapers found themselves unable to print all the news fit to print.
February 20, 2020
The Other Triangles: The Pink, the Purple and the Brown: Every so-called "inferior" persecuted by the National Socialists shared a common badge, a triangle. Differentiated only by its color and configuration, it signified the alleged crime committed by the wearer. Homosexuals, Gypsies, Jehova's Witnesses and Blacks wore these badges. Some would live, most would die. This story must be told.
March 5, 2020
The Germans Who Protested and Died; and the Women of Valor: Individual, ordinary Germans, men and women who protested against Adolf Hitler and the Nazis were invariably discovered and summarily executed by decapitation and firing squad. Incredibly, thousands of Gentile women, in 1943, in the center of Berlin defiantly faced down Hitler and the SS to protect their Jewish husbands. The stories of the individuals who lived and died will be told, so that they may honored.
March 19, 2020
Righteous Among the Nations: Each year we end our presentations by telling the stories and honoring the men, women and children who risked their lives and liberty in order to save the Jews from certain torture and death. Each story is unique and demonstrates the best in human nature. This year will be no different. You will hear about men and women of ordinary background and stature who realized they had no choice but to do what they did regardless of the consequences. This presentation is always dedicated to Anne Frank who in her optimism, joy and all-consuming innocence represents the 1,500,000 children murdered by the Nazis and their accomplices.