Dearest Pauline…A World War II Healer Writes Home
While the Holocaust is one of the most analyzed events in history, one of the few dramas not yet told is that of the Civil Affairs Division and its Medical Officers, who brought order to chaos in the closing days of World War II. The Civil Affairs Medical Division was charged with stabilizing and restoring the health of the civilian population.
Initially, it appeared to be a "cushy" assignment for the small team of physicians, dentists and pharmacists sent to Yale University at the end of 1943 to be trained for the task. However, what they encountered the end of the war was incomprehensible, even to this select group of seasoned professional medical personnel.
Dearest Pauline is a first-hand account told by Dr. Price Duff.  A young family man, Dr. Duff had been working as a Tennessee State Health department doctor in a rural, poverty stricken area of the Cumberland Plateau before the Army called him to serve as a Civil Affairs Medical officer during the liberation of Europe.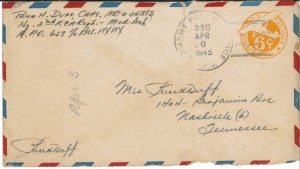 Using the letters he sent home, our story begins when  Dr. Duff's Army career does. From the time he received his initial orders, through his training at various Army posts and specialized training at Yale University, then as his crossed the Atlantic on the USS Argentina to work initially in England, as both a doctor and an Army censor, until his crossing of the English Channel in September of 1944. From here, we witness his journey through France, Luxembourg and Belgium, finally crossing the Rhine River into Germany where he encounters the inconceivable.
In Germany the young doctor is overwhelmed with bringing humanitarian aid to a population in crisis. Nothing could have prepared him for the horror stories he and his fellow officers encountered as they entered Buchenwald, Nordhausen and Dora.  Dr. Duff worked steadfastly and courageously – changing lives in the process, including his own.
Through his personal letters, meticulously and articulately written, official Army orders, records, photographs and memorabilia, supplemented by his interviews with his family and reenactments of certain poignant moments, we relive this personal story of a healer who was not just a witness to one of history's defining moments, but an active participant.
~~~~~~~~~~~~~~~~~~~~~~~~~~~~~~~~~~~~~~~
The Holocaust Museum & Education Center of Southwest Florida would like to thank the generous support of the family of Pauline and Dr. Price Duff, who made this exhibit possible. We would like to thank Paula Hope Iacampo, granddaughter of Dr. Duff, and her family for allowing us to utilize the Dr. Price Duff Collection for this exhibit.
Presenting Sponsors
Melinda & Mark H. George
Kaye Duff George & Steven George
Tina & Cristan Blackman
Sharon & Jim Hale
Case Sponsors
Rachel & Eric George
Melissa, Abby, & Duff George
Judy & Edward Blackman IV
The Gaspar Family
Edward Blackman III
Sponsors
Michael Iacampo
Lisa Hughes
Leanne & H. Blair Chang
Special Thanks to Christy Thrasher, great granddaughter of Dr. Duff, for volunteering her graphic design talents for the exhibit and upcoming Triumph Event.
We would also like to thank the following institutions for their assistance with research and providing objects for this exhibition:
The Tennessee State Museum
The Office of Medical History, Office of the Chief of Staff, United States Army Medical Command National Archives and Records Administration
Yale University Library Special Collections
The Camp Van Dorn World War II Museum
Additional support for this project was provided by the Jewish Federation of Collier County.