All are invited to attend the annual commemoration of Kristallnacht. The "Night of Broken Glass" is considered by many historians as the beginning of the Holocaust in Germany. The event is sponsored by the Catholic-Jewish Dialogue of Collier County, and is free of charge and open to the public.
Special Note to all Survivors, children or grandchildren of a Holocaust Survivor: we welcome your attendance. If you would like to participate in the ceremony, please contact Ida Margolis, Chair of GenShoah of SWFL (genshoah@gmail.com) or Sam Parish, Education Specialist at the Holocaust Museum & Cohen Education Center (Sam@HolocaustMuseumSWFL.org) for more information.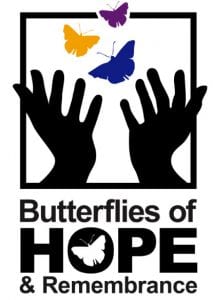 This year's commemoration marks the beginning of a year long program called "Butterflies of Hope and Remembrance". The program was created to mark the 75th anniversary of the liberation of concentration camps at the end of WWII.