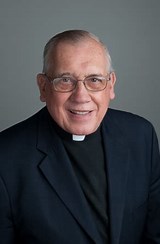 All are invited to attend the annual commemoration of Kristallnacht. The "Night of Broken Glass" is considered by many historians as the beginning of the Holocaust in Germany. The event is sponsored by the Catholic-Jewish Dialogue of Collier County, and is free of charge and open to the public
This year's Guest Speaker is Rev. John Pawlikowski, a leading figure in the Christian-Jewish Dialogue. He is the President of the International Council of Christians and Jews and author of Christ in the Light of the Christian Jewish Dialogue and co-editor of Ethics in the Shadow of the Holocaust.
Admission is free to attend, but RSVP is required. Click on the button RSVP button to register for the event and to receive the ZOOM link.
The event is co-sponsored by Catholic-Jewish Dialogue of Collier County; Jewish Community Relations Council of the Jewish Federation of Greater Naples; Diocese of Venice, FL, GenShoah of SWFL, and the Holocaust Museum & Janet G. and Harvey D. Cohen Education Center. Click here for a flyer.