Join in the celebration of 15 years of service to our Southwest Florida community!
Meet Students and Teachers …
Meet students and teachers who will share their stories of meeting Holocaust Survivors and Camp
Liberators. Since the Museum's inception, we have reached over 145,000 students, grades K-12, and university in six Southwest Florida counties.
Special Honorees…
Special Honorees are Jack and F.E. Nortman and the Nortman Family. The Nortmans are being honored for their gracious loan to the Museum of the iconic Boxcar as part of The Boxcar Project. A recent article in Life in Naples magazine tells the story behind their acquisition of this artifact and its journey from Austria to Naples.
You will also meet the Immokalee iTech students and their Instructor, Dan Kroeker, who were responsible for the recent Boxcar restoration project.
The Boxcar Project …
Since 2008, the Boxcar has traveled to over 90 locations across South Florida. Thousands of students, parents and community members have been impacted by seeing the Boxcar and its exhibit materials.
Here are just a few quotes from the thousands of people who have been impacted by seeing the Boxcar exhibit:
"Hosting the boxcar at our school last year had the most profound and lasting impact of any program we have ever had at our school. Our students and faculty still speak of it and ask if we will be able to do it again.  It turned academic study into reality in a way that nothing else could. Thank you for such a meaningful experience for us all." – Teacher, Gulf Middle School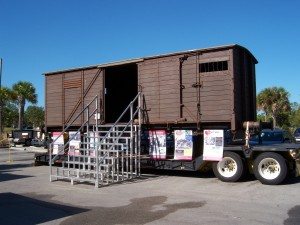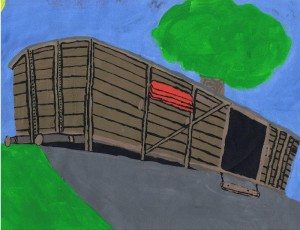 "The Boxcar on campus was a success on many levels … Perhaps one of the most sobering things about the exhibit was the effect it had on some of the students who have family members involved in gang activity.  These children learned that gang mentality can lead to a Holocaust, through fear, and intimidation. Some children mentioned that bullying or simple kidding around could lead to similar results."  – Teacher, Lee Middle School
Support Levels:
$275 per person for the Triumph dinner and program beginning at 6:15 pm
All Patron Levels include entrance to the Patron Reception beginning at 5:30 pm
$1,500      Museum Patron (2 tickets)
$2,500     Community Patron (4 tickets)
$5,000     Supporting Patron (6 tickets)
$10,000   Presenting Patron (8 tickets)
$15,000   Anniversary Patron (10 tickets)
[button link="https://hmcec.org/make-a-donation/" bg_color="#831a2d"]Purchase your tickets on our Donation Page[/button]
For further information or benefits associated with the Patron Levels, please contact Amy Snyder at 239-263-9200.