A Letter from the Board Chairman and the President & CEO
20 years of Teaching Mutual Respect
Our mission is "to teach the lessons of the Holocaust to inspire action against bigotry, hatred and violence." We are proud of our twenty years of success in educating over 15,000 students every year and for the wonderful reviews we continue to receive from our visitors.
Thanks to our generous donors, in 2018 we purchased 6,000 square feet of space which we renovated to become the Museum that you see today. In 2020, when 3,600 square feet of adjacent space became available, the Museum purchased it as well. Now we are preparing to renovate the new space in order for it to become an integral part of the existing Museum.
We will be adding several new galleries — one dedicated to the important history of the Auschwitz concentration camp, another for special exhibits, still another dedicated to human rights issues and genocides. We will also be adding a second classroom. These additions will allow the Museum to serve even more students and visitors.
Once again, we are calling upon our friends to help us to accomplish our goal. Naming opportunities are available. Please contact me if you would like to discuss the details of this project and how you can help!
Thank you,
Susan L. Suarez,
President and CEO
Holocaust Museum & Janet G. and Harvey D. Cohen Education Center
susan@hmcec.org
Changing Lives Through Education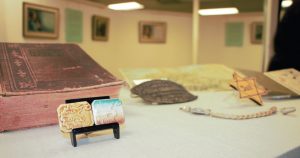 The unique origin of the Museum & Education Center was a Golden Gate Middle School classroom exhibit created by students and teachers studying the Holocaust. Museum founders, Liberators, and Survivors donated and gathered Holocaust and World War II artifacts to expand the students' project and created the Southwest Florida Holocaust Museum.
With a focus on education, the Museum's programs have reached more than 250,000 students and visitors since 2001. Florida law requires that the Holocaust be taught in school. Working with teachers and administrators, the Museum develops curriculum appropriate for students in elementary through high school. Our education model is structured to encourage students and visitors to move from thought to judgement to participation as they confront the moral questions inherent in a study of violence, racism, antisemitism, and bigotry.